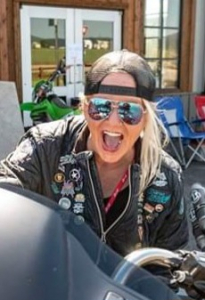 Weekdays mornings: 6-10am with The People's Morning Show
Weekdays rockin' you at work:  10am-Noon
---
30+ years in radio and riding and always ready to go! Show host. Radio host. I have been involved with helping thousands of businesses grow and showcase their efforts to their customers. I have hosted, promoted and participated in thousands of charity events specializing in motorcycle rides.
Sturgis, Daytona, Laconia, Arizona…. Bike weeks everywhere. Hosting and helping Biker Belles, Helping with Horsepower. I specialize in making others shine.
Harrisburg Magazine Simply the Best Winner – Best Radio Personality. Personality Winner of the 2016 Children's Miracle Network Personality of the Year. Winner of 2016 Pennsylvania Association of Broadcasters Award for Best Morning Show. Member of ABATE, VFW Ladies Auxiliary 20+ years. American Legion Auxiliary 20+ years. Founder of Divas Elite Social Riding Group. Blankets of Honor Recipient. Visual and jewelry artist.
Jen was a fixture at The X for 6 years (Afternoon Drive and Asst. Program Director) when she took some time off to become a corporate officer in an entertainment company and spend time with her family.
According to Shade, "I was having a great life after 11 years in radio. I had more free time, more money, the stabbing chest (and back) pains had even stopped…then the phone rang. I got the call from the station's GM. All he asked was that I listen to the guys read news…I did…and my fate was instantly sealed. I knew I must return…"
She adds, "It's good to be home."